Mr. President you said... "If you're not for us, you're against us." Well just who are you for?

You have yet to show any outrage over the conditions at Walter Reed Army Hospital, where our wounded service men and women go.

You do still remember Walter Reed, there are pictures of you visiting the wounded... I'm sure you had to see the conditions there.

President Bush and his administration always question others patriotism. If critized, they come up with how the troops are being sent the wrong message.

Mr. President, what message are you sending the troops when they dont hear from you about the conditions at
Walter Reed?

What message are you sending when you allow your administration to put the blame on the Pentagon?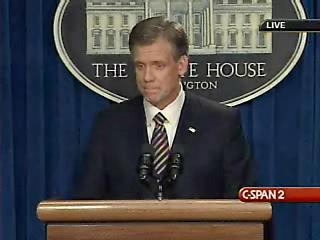 You say that you are for us and not against us... why dont YOU start showing us, by doing something more then letting your administration find others in the government to blame during your watch!

What say you America?