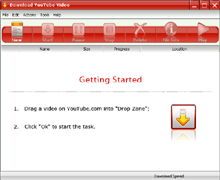 Click photo to enlarge
Excuse me for not posting much this week, but I have enjoyed reading you all posts. I ran across some free software that I would like to share with anyone that is not familiar with it. The software is called
Xilisoft Download YouTube Video
, it enables one to download videos from You Tube onto your computer and to play back what you have downloaded at anytime without being on line.
Xilisoft Download YouTube Video is the most powerful free YouTube video downloader to download videos from YouTube.com and play YouTube videos with the FLV player within the software all for free.
NOTE:
Always check downloads with your antivirus software regardless to where it comes from.

Click here to download
FLASH
: JollyRoger over at
RECONSTITUTION 2
has given a You Tube software for users of Ubuntu Linux to download You Tube. Click
TechCrunch
.